Has the virus pandemic had a negative influence on your fitness routine? Have you put on weight or lost strength? If you've been too scared to go to the gym for fear of getting sick, we've got your back. This article will teach you how to stay safe at the gym and introduce you to a gym workout alternative.
Are Gyms Safe?
Many people have shied away from going back to the gym since they reopened, and it's completely understandable why. Gyms are often crowded, sweaty, and utilize shared equipment, all of which can increase the risk of catching a virus such as COVID-19.
However, there are some ways in which you can minimize that risk and make your gym session enjoyable and worry-free. Here are our top tips on gym precautions during covid:
1: Don't visit the gym during peak times
It makes sense that the more people you are around, the higher your risk of catching the virus. When going to the gym during covid, visit during off-peak times, such as early in the morning or late at night.
2: Wear appropriate protection
Ensure you have your face-covering in your gym bag. When working out, you'll feel more comfortable if you use a soft cotton mask rather than the disposal medical ones. The advantage of the cotton ones is that they are more eco-friendly as you can wash them at home on a hot wash.
3: Sanitize
We should all be used to this one now, but don't forget to bring your hand sanitizer and use it regularly throughout your workout session. Additionally, utilize the sanitizing sprays provided by your gym to clean the equipment you use before and after you touch it, helping to safeguard other gym users too.
4: Observe social distancing
Don't exercise right next to someone else or stand too close if you are waiting for a specific piece of equipment to become free. If you need to speak to a member of staff, ensure you maintain the correct distance.
5: Minimize time at the gym
Many gyms will close the locker rooms, but it is advisable to skip the showers anyway, even if yours hasn't. Bring minimal items to the gym, use a fresh sweat towel that you put straight in the wash afterward, and shower when you get home.
6: Ensure the gym is adhering to all possible safety measures
These include appropriate ventilation, limiting the number of gym users at any time, providing free sanitizing products, spacing out equipment, and advising people not to visit if they have any symptoms of COVID-19.
Still Not Sure About Gym Safety?
Despite gyms putting social distancing and safety measures in place, many people still don't feel comfortable visiting. Working out at home or outdoors in an open space is much safer than visiting a gym. Despite what many people think, home workouts can be as effective as the gym. Most people get the best home workout results when using fitness apps, and one of the best fitness apps for iPhone is 30 Day Fitness.
What is the 30 Day Fitness App?
The 30 Day Fitness app is a home workout program tailored to your unique fitness level and goals. The exercises are designed by professionally qualified personal trainers who have extensive industry experience. This ensures the exercises and workouts are safe and effective.
A Personalized Experience
The 30 Day Fitness app is easy and fun to use. Once you have downloaded it, you enter some information about yourself and your goals, and the app will design the perfect workout to match your level and desired outcome. This is important because everyone is different, and what works for one person may not be as effective for someone else. It is through this intelligent personalization that the 30 Day Fitness app acts as your own personal trainer at home, for a fraction of the cost.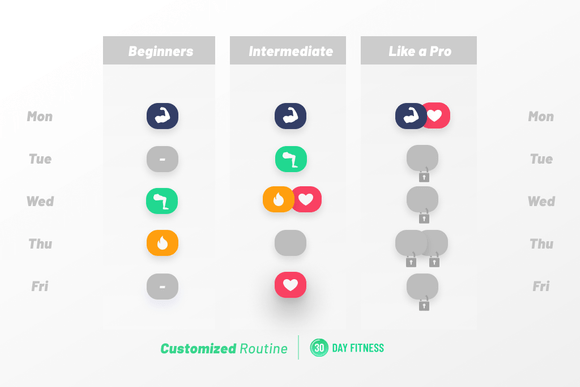 Gym-Quality Results
The results you can achieve by using the 30 Day Fitness app are phenomenal. You can build strong, defined muscle using bodyweight exercises, and you can lose weight by participating in cardio-based workouts. Most of the app's workouts will combine these two types of exercise; resistance training and cardio, for a comprehensive and efficient regime.
Beginner-Friendly, Easy to Follow Exercises
If you are a beginner to exercise, there is no need to wonder whether you will understand what to do. Each exercise is illustrated clearly via a short video demonstration and written instructions. The app takes you through each exercise in your workout step-by-step, and if you struggle, then you can pause and take a rest whenever you need it – great for beginners, unfit people, and those who feel shy exercising in front of other people.
No Equipment? No Space? No Problem!
The great thing about working out with fitness apps such as 30 Day Fitness is that you don't need equipment or much space, making them suitable for even the smallest apartments or gardens. All you need is floor space the size of a yoga mat to participate in the workouts. You don't even need the yoga mat itself, although many people find it more comfortable to use one. But if that's not in your budget yet, you can get started with just the floor, carpet, or grass in your garden or local park.
The Perfect Solution for Busy People
Working out with the 30 Day Fitness App will save you so much time compared with your regular gym sessions. Whereas committing to the gym means you need to factor in travel time to and from the facility, plus waiting for equipment to be free, none of that is a problem when using fitness apps at home. All you need is 15 minutes a day to see fantastic results. Everyone can find 15 minutes in their day for something as important as exercise.
30 Days to Your Ideal Shape
If you are the type of person who thrives on a challenge, you will love the variety of signature 30-day challenges that you can access within the app. Whether you want to lose belly fat, tone your butt and thighs, or sculpt your entire body, there is a challenge that will help. All you need to do is pick one and open the app daily to do your 15-minute workout. You will be amazed at your transformation when the challenge is complete.
Final Thoughts
If you love the gym, there are precautions you can take to minimize your risk of contracting COVID-19. But if you hate the idea of going to the gym during covid and like the sound of fitness apps for safe home workouts, you should definitely try 30 Day Fitness. The exercises are designed by professional personal trainers, making them safe and as effective as gym workouts when appropriately followed.
Like anything in life, you get out what you put in, and your workout results, whether at the gym or using fitness apps at home, are no different. Commit to your program, show up every day, put in the effort, and you will be amazed by your results. No risks, no face masks, no excuses.