If you are new to fitness, trying to get started can be a little bit daunting. There is so much technical jargon when it comes to exercise, and there seems to be a new fitness craze sweeping the world every week. So, where do you begin? You can start with our top ten fitness tips to help you on your journey.
The Best App for Beginners to Exercise
While sports science can certainly be complex, your workouts don't have to be. The best way for beginners to create a fitness habit is to follow practical yet straightforward exercises designed by professional personal trainers.
The 30 Day Fitness app has been developed by professionals to meet the needs of beginners to fitness. It takes you through the basics of safe and effective exercise while helping you get the results you want. The app contains a library of exercises and workouts and using these creates a personalized workout regime based on your current ability and goals.
Additionally, you can access specially developed 30-day challenges that either target a particular body part, for example, legs and booty, or provide you with a whole-body tune-up. These challenges are fun and motivating as you tick the days off the challenge calendar. The best part is, they require zero equipment, very little space, and take up just 15 minutes of your time each day.
Top Ten Dos and Don'ts
Let's look at our top ten do's and don'ts for beginners who want to create a new fitness habit. These tips form a solid foundation of fitness knowledge and can be integrated into whichever form of exercise you choose.
1: Do warm up properly
Warming up your muscles sufficiently before exercise helps you get the most out of your workout and lowers your risk of injury. When the muscles are warm, they can stretch further and perform better.
2: Do follow a professionally designed plan
Due to the accessibility of the internet, many people offer workout apps and videos for sale and for free. It is recommended that you only follow exercises created by professional personal trainers to ensure your safety and that your workout is effective.
3: Do a mixture of cardio and resistance training
Both exercise types are needed for a healthy body. Cardio exercise such as running, dancing, and aerobics are essential for cardiovascular health. Resistance training such as push-ups, lunges, and weights are crucial for building muscle strength. You don't need to use weights, though; you can create excellent strength using your bodyweight.
4: Do hydrate sufficiently
Lack of hydration impairs your performance during exercise and can also cause symptoms such as headache, dizziness, and fatigue. Ensure you hydrate your body before, during, and after exercise.
5: Do work out with a friend
Studies have shown that you get much better results when you take on a new challenge or activity with a friend. Team up with someone who has similar goals so that you can encourage and motivate each other.
6: Don't forget to cool down
Cooling down and stretching your muscles is essential for minimizing post-workout pain, technically known as DOMS (Delayed Onset Muscle Soreness). It helps your body to transition back to a resting state. Yoga postures and runners stretches are excellent cool-down exercises.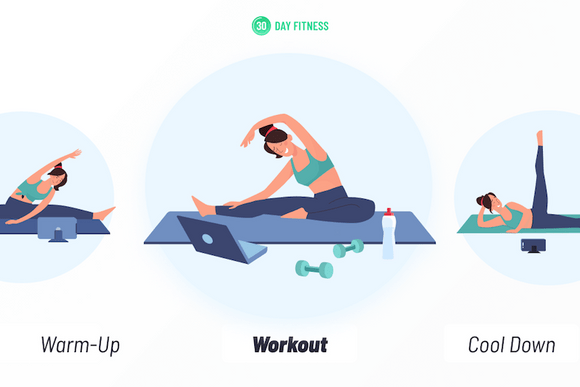 7: Don't set unrealistic expectations
While it is great to set goals and have an idea of the results you want to achieve, you mustn't expect too much, too soon. Unfortunately, there is so much misleading content on social media these days, with people promising rapid results for little to no effort. Despite our advances in the understanding of the human body, there are no quick fixes or shortcuts to muscle growth or weight loss. The best thing to do is to create a healthy lifestyle and exercise regularly. The 30 Day Fitness app will guide you to the correct amount of exercise for your goals and current fitness level.
8: Don't skip meals
You wouldn't expect your car to run without refueling it regularly. Your body is no different. If you plan to start exercising regularly, you will need to fuel your body with the right foods. Whole grains, lean protein, and plenty of fresh fruits and vegetables are the fuel your body needs to build muscle and be healthy.
9: Don't skip sleep
Like skipping meals, if you skimp on sleep, your body will have difficulty keeping up with your new fitness regime. Those with a sedentary lifestyle may be able to scrape by on five or six hours of sleep (though it is not recommended), but if you are active, you should get seven to nine hours of quality shut-eye per night. Plus, sleep deprivation can cause you to overeat, which will hinder your progress.
10: Don't forget to smile!
Your new fitness habit should be fun, so smile and enjoy it! Practice gratitude for the fact that you have a healthy body that enables you to exercise and move and dance and play. Perform your workouts with a smile on your face, and you will feel so much more motivated to keep going.
Final Thoughts
If your goal is to get in shape and stick to a new fitness habit, you can start by following our top ten fitness dos and don'ts. If you want to take it a step further and find an easy, inexpensive, and enjoyable way to work out, then the 30 Day Fitness app is for you. The exercises in the app have been developed by fitness professionals and require no fancy equipment. You will receive a personalized program that is tailored to your level of fitness and goals.
With the 30 Day Fitness app, you can start from the basics and build your experience at a pace that suits you. You will learn how to train safely and avoid injuries because the exercises are explained step-by-step by our fitness instructors using video demonstrations and detailed written instructions. You can work out anytime, anywhere while having fun and getting great results.