2020 was a whirlwind of a year all around, no matter your station in life. Jobs were lost, businesses closed their doors, and video chats are the new normal whether we like it or not.
The fitness industry is one of the thousands that experienced a huge shift. Physical gyms have hardly been able to operate, forcing many people online. The demand for a quality fitness app has increased tenfold, and many have found their answer in 30 Day Fitness.
Top 5 Reasons Millions Love 30-Day Fitness
The app saw a massive surge of sign-ups in 2020, adding millions to their ranks. Why is the app so popular? The reasons are many, but there are five that top the list.
1. Short, Easy Workouts
Even with the lockdowns and shutdowns, many people's lives have remained busy. Jobs have shifted to online-only, which saves you the commute but presents a unique set of problems and potential delays.
30 Day Fitness is ideal for those that want to get fit but don't have a lot of time. Some do indeed spend hours in the gym, but that's unnecessary! Science itself tells us that just 15 minutes of exercise each day is enough to get fit.
The app has a vast library of short workouts and exercises ranging from 10 minutes to half an hour or more. Turn off your camera and get fit in your living room, on your lunch break!
That said, you don't have to stick to short workouts. If you've already got some experience, you can craft longer workouts if you wish. Or, once you're in the swing of things, you can lengthen your workouts as you build up the strength and stamina to do so.
Again though, this is just an option you have with a customized fitness plan. 10-15 minutes a day is a perfectly adequate long-term solution to meet your weight loss goals.
Enough Guidance to Train Like a Pro
Whether you've just started working out recently or you were forced to switch from the gym to at-home, it can be overwhelming. You don't have trainers to guide you and there are no machines to hold you in the right form.
Thankfully, 30 Day Fitness takes extra measures to ensure you never question a movement. Each individual exercise includes a detailed set of written instructions and an easy-to-follow video tutorial - enough guidance for even the most clueless beginner.
They recognize the need for proper form for two very important reasons. First is safety - doing an exercise incorrectly can cause injury and/or strain to your muscles and joints.
Proper form also means you get the most out of the exercise. Even if doing it wrong doesn't hurt you, you may not work the muscles enough to get results.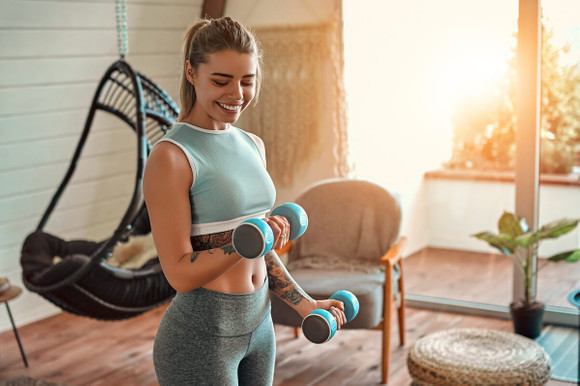 Highly Personalized Plans
The app was brilliantly designed to allow for maximum personalization. Exercises are labeled with a muscle group, difficulty level, and length. These parameters let you create a workout schedule that fits into your life, instead of the other way around.
You can choose to work out for one hour six days a week, or 10 minutes three days a week, or any other combination that suits you. You don't have to worry about combining exercises to create the right number of reps, or doing the math to make sure it's not too long.
Once you start your plan, it's not set in stone either. You can leave feedback after every workout. This feedback is then taken into consideration going forward. If you label a workout as too hard, the plan is adjusted accordingly. It's like having a virtual weight loss assistant.
Lastly, you can put your fitness plan on pause, no problem. The app operates on a week-to-week subscription basis so you can leave any time. Once you decide to pick up again, you can start right where you left off, or create a new plan - it's up to you!
Insane Fitness Motivation
Once you've established your fitness plan, the next step is finding motivation. For some, this is half the battle. Thankfully, 30 Day Fitness thought of this, too.
For starters, the app sends you daily reminders, acting as a mild form of accountability. While it's not forcing you to do anything, this keeps your workout at the forefront of your mind. It's that little extra push to just do it.
It also tracks your progress as you move along, allowing you to look back on how far you've come and what you've already accomplished.
The last piece of fitness motivation takes the form of targeted challenges. These are a series of 30-day long challenges that target a specific muscle group or goal. For example, you have challenges dedicated to achieving a flat tummy, toned arms, a stronger core, etc.
These offer a break from your typical routine and get you laser-focused on one specific goal. They're also I think we can kill it (unless great results come from the analysis and we decide to keep onboarding campaigns ongoing in the future)., so the results you see at the end of the 30 days can be the boost you need to keep attacking your workouts full-force.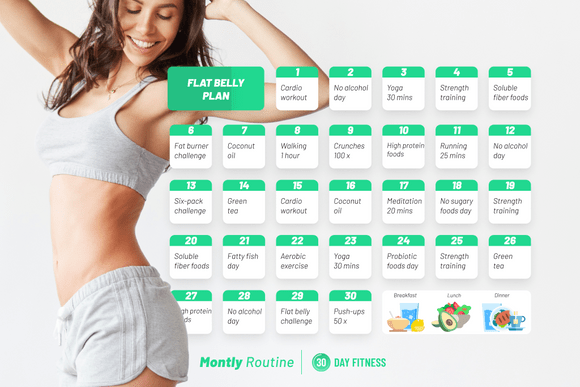 A Well-Balanced Fitness Plan
The 30 Day Fitness app is highly praised for the perfect balance between cardio and strength training. They understand that both are important for weight loss and are best when done together as part of one plan.
They've researched for you and combined them in the best way. Each workout contains elements of both in amounts that will have you achieving your goals faster than ever. While most personal trainers charge insane prices for such personalized services, the 30 Day Fitness app costs less than a cup of coffee a day!
Join The Millions Already Getting Fit With 30-Day Fitness
These are the five most compelling reasons millions have joined 30 Day Fitness, and they've stuck around because the app delivers on its promises. Members are reaching their weight loss goals and accomplishing new things every day.
There's never been a better time to start a home workout plan, and 30 Day Fitness is the place to be, for beginners and fitness gurus alike.