Spring has sprung, and it is the perfect time to get in shape for summer. This article will explain the fastest and most effective way to start your summer workout program and get yourself beach-ready in just 30 days! We will also share some summer nutrition tips for weight loss and a flat belly.
Exercise Outside
Spring and summer invite us to get outdoors as often as possible. Make the most of the warmer weather by working out in nature. Try your local park or beach for a fun natural setting, and switch it up for variety, so you don't get bored. Exercising in the fresh air also improves mental and emotional wellbeing, helping you stay calm and focused during your everyday life.
The 30 Day Fitness app is the perfect companion for outdoor fitness because the short workouts require no equipment. There's no need to exercise in a hot, sweaty gym anymore if you don't want to. Plus, the routines are, on average, 15 minutes in length, making them super easy to fit into your busy summer schedule! Why not get the whole family involved and have a daily family walk and workout in the park?
Eat More Plants
Summer is the perfect time to lighten up your diet and include more wholesome unprocessed plant-based foods. Enjoy lots of seasonal fruits and vegetables such as:
strawberries
cucumbers
watermelon
arugula
lettuce
tomatoes
fennel
radishes
raspberries
basil
rhubarb
Eating these seasonal foods will help to detoxify and cleanse a sluggish system, ridding the body of toxins accumulated over the winter. They are packed full of vitamins, minerals, antioxidants, fiber, and water, flooding your body with nourishment.
Eating a lighter diet packed with seasonal fruits and vegetables also reduces your waistline and gives you a flatter belly. To supercharge this process, add in some exercises to burn belly fat, such as skipping, dancing, abdominal exercises, and waist-sculpting movements.
The 30 Day Fitness app will provide you with a program tailored to your goal and level of fitness. Plus, the exercises are designed by professional personal trainers and explained in detail using videos and step-by-step written instructions, so they are perfect for beginners.
Stay Hydrated
Ensure you drink plenty of pure water during the warmer months to help with hydration and detoxification. During warm weather, we lose more water due to sweating. Keep a bottle of water with you at all times during the summer, and ensure you sip from it regularly. Remember, you will need even more water when you exercise.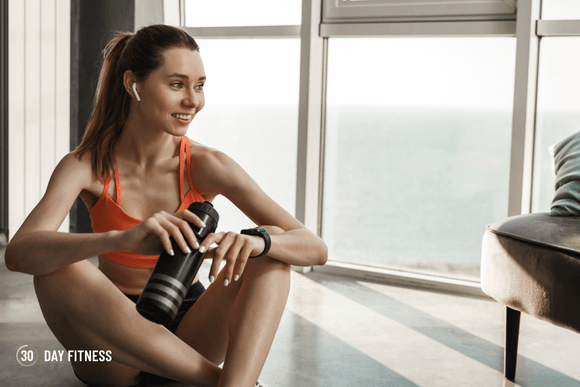 Here are three tips to get you glugging more water this summer:
1: Botanical Boost
Some people find plain water unpalatable. If that's you, why not jazz up your water by adding sliced cucumbers, mint leaves, or fresh fruit? These botanical additions provide flavor, nutrients and stave off cravings for fizzy drinks. Sodas and other processed beverages contain high levels of sugar and chemicals, which dehydrate you further and damage your health.
2: Make it Fun
Buy yourself a beautiful water bottle, so you actually want to use it. There are so many on the market, including sparkly ones, ones with inspirational quotes, and even ones with crystals inside! If you want to add botanicals to your water, you can buy a bottle that has a mesh infuser section in the center.
3: Morning Elixir
Start your day the best possible way by hydrating as soon as you wake up. Choose warm water and add a squeeze of fresh lemon or lime juice, some freshly grated ginger or turmeric root, and a dash of honey if you like it a bit sweeter. This powerful elixir will flush out toxins, refresh and rejuvenate you, helping you face the day with energy and focus.
Take on a New Challenge!
Why not mix up your summer workout program by taking on a 30-day challenge? Challenges have been shown to increase motivation and, therefore, results, especially when done with a friend or group.
The 30 Day Fitness app has a variety of 30-day challenges built in for no extra cost, so now would be the perfect time to try one. Some challenges focus on reducing belly fat or shaping the waistline, such as 'Belly Fat Blast' and 'Hourglass Waist,' while others provide a total-body makeover, like the 'Goddess' and 'Bikini Body' challenges.
A 30-day challenge would make the perfect summer workout program because they include daily short workouts of just 15 minutes that help with weight loss and can be done anytime, anywhere! The app tracks your progress and even sends you daily reminders in case you get busy and forget your daily workout.
By the end of the 30 days, you will see fantastic results and have cultivated a daily exercise habit, something our millions of users have really enjoyed about our challenges.
Conclusion
If you are looking for a summer workout program that includes short workouts you can do outdoors with exercises to burn belly fat and help with weight loss, the 30 Day Fitness app is the perfect solution for you. It is tailored to the busy exercise beginner who wants a professionally designed workout routine that gets results but doesn't take over their life.
So, whether you want to get beach-ready, whittle your waistline, or get a total body tune-up, you will get what you need within the app. Download it today and find your perfect summer workout program.