So many of us start with good intentions when joining a gym and starting a workout routine. We book the induction, follow the plan for a while, even begin to see some results. But then life gets in the way. Those trips to the gym that take hours out of our day get shoved to the bottom of the priorities list, and before we know it, we're right back to square one. Well, not quite square one; we also have a hefty monthly gym subscription that we're locked into for the next ten months!
If this sounds like you, then you're in the right place. I have been in this situation too many times, and I am here to tell you that there is a better way to get fit that doesn't take up so much of your precious time, that you can do at home, and that is effective as the gym. I have experienced these benefits with a user-friendly, fun, and motivational app called 30 Day Fitness. Let's address the top three issues people face when they want to start working out.
Issue One: Time
Time is one of the primary reasons people give up on their fitness goals. Modern life flies by at a hundred miles an hour, and there never seems to be enough time to complete the ever-growing to-do list. That's why so many people give up on their gym memberships – they just don't have the time to travel to the gym, get changed, do the hour-long workout or class, shower and change again, and then travel back home or to work.
This is where home workouts win hands down over gym sessions. Going to the gym used to take me at least three hours, 3-4 days a week. That's a lot of time! Now I get the same results working out 3-4 times a week for 15-20 minutes each session from my home, with no equipment. This was a game-changer because it showed me how to stick to a workout routine – and consistency is the only way you'll see results.
Tips on Finding Time for Your Workout
1: Create a regular schedule for your exercise.
Write it in your calendar and stick to it no matter what. Making exercise non-negotiable is an act of self-love. If you have a doctor's appointment in your diary, you don't make plans at that time. It should be the same for your workouts.
2: Evaluate where you waste time.
Do you spend two hours on social media each evening? Binge-watch Netflix shows? Most of us can find 20 minutes every day to spend on something worthwhile like exercise. It's usually a question of prioritizing how you spend your time.
Issue Two: Difficulty
Many beginners worry about working out from home because they fear that they'll do something wrong. Or, they feel that as a beginner, videos and apps will be too difficult for them. The great thing about working out from home using an app is that you can pause when you need to and not feel embarrassed.
What I loved about the 30 Day Fitness app is that I could access easy workouts for beginners and build my strength and stamina at my own pace, and they are personalized to me. Plus, I am a visual learner, and so I need to see a demonstration of the exercise being performed, which the app provides. I felt safe because I knew that professional personal trainers designed the exercises and workouts.
Tips on Starting a Workout Routine
1: Ensure that your workout fits your goals and fitness level.
It's easy to see that insane HIIT workout on Instagram (and all the super-fast results the creator promises) and want to give it a go. But if you rush straight in at a level that's too difficult, you'll end up either injuring yourself or being totally put off because it will feel way too hard.
2: Look for detailed step-by-step instructions.
If you are brand new to exercise, this tip is crucial to prevent you from getting injured. Ensure that the mode of instruction you use clearly and visually demonstrates the correct form and is designed by suitably qualified fitness professionals.
Issue three: Motivation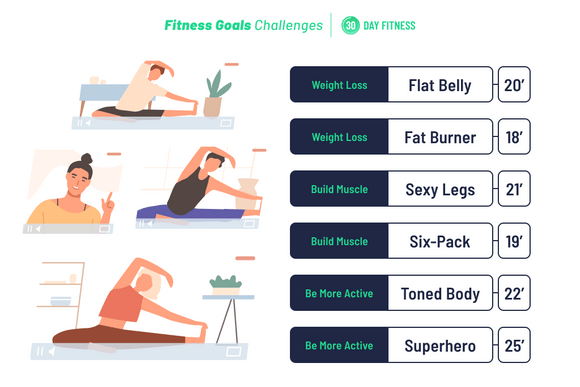 If you find that soon after you begin your new fitness regime, you have no motivation to workout; you're not alone. According to a study conducted by Harris Interactive on behalf of Bodybuilding.com, 73% of people who set fitness goals for their new year's resolutions give up before reaching their goal.
Why does this happen? It's often a combination of time and difficulty, as we've addressed above. But sometimes it's due to boredom or that the exercise just isn't challenging or fun. Another reason people have no motivation to workout is that they aren't aware of their progress.
Tips on How to Stick to a Workout Routine
1: Take on a challenge that delivers specific results.
Choosing to complete a pre-made challenge over a set time period is motivating because each time you tick off a day from the calendar, you get a little rush of dopamine. And when you finish the challenge, you enjoy the results plus a huge sense of achievement, which is great for boosting self-confidence. The 30 Day Fitness app has 30-day challenges for many goals, such as Bikini Body, Belly Fat Blast, Sexy Legs and Butt, and Hourglass Waist. Bonus tip: supercharge your challenge by setting a little healthy competition between you and a friend.
2: Track your progress.
I can't emphasize this one enough. I almost gave up once because I thought nothing was changing from all my workout efforts. It was only when someone I hadn't seen in a while commented how toned and slim I was looking that I weighed myself and realized I'd lost 7lbs! I recommend that you weigh and measure yourself weekly. It is also essential to track your exercise sessions. With the 30 Day Fitness app, you can see how many workouts you've completed, the number of minutes you've exercised, and the number of calories you've burned.
How Do Fitness Apps Work?
Fitness apps are a time-saving and cost-effective solution to many people's problems when getting started with exercise. You enter some information about yourself, for example, your sex, age, current weight, goal weight, fitness goals, and the time you have available, and the app cleverly creates a personalized plan. It syncs with Apple Health so you can track your data, and it even sends you reminders so you don't forget to exercise!
If you're looking for a workout plan for beginners at home that's customizable to your fitness level and goals, explains each exercise succinctly (with videos), is designed by fitness professionals, helps you stay motivated by tracking your progress, and costs a fraction of the price of a gym membership, you should definitely try 30 Day Fitness.
Natalie Heath