When Fall comes around, it probably makes you think of delicious soups, hearty chilis and other fresh seasonal meals. There are plenty of fall fruits and vegetables that you can incorporate into your daily meals easily. Here are some great fall food ideas to keep you warm, while the weather starts to cool down.
What Fruits and Vegetables are in Season in Autumn?
When Autumn come around, some of the top fruits and vegetables that are in season are:
Apples, blackberries, butternut squash, brussels sprouts, cabbage, carrots, calliflower, celery, kale, leeks, onions, parsnips, pears, potatoes, pumpkins, spinach and turnips.
If you're a soup lover, here are some simple recipes to make which incorporate some of the fall season vegetables and fruits on our list.
Creamy Apple and Parsnip Soup
Melt oil, butter and fry onions and parsnips in a saucepan until the onions are softened. You can then include your apples and garlic to taste. Cook the apples for another few minutes until softened.  Bring the stock to a boil, simmer and cook for 20 minutes or until the parsnips are softened. Add some salt and pepper, milk and blend until smooth.
Curried Butternut Squash and Pear Soup
Here is another delicious Fall soup recipe which includes butternut squash, pears onion, garlic and curry powder. First you will want to roast the squash at 350 until it's softened. Take out the pulp and peel and set aside. Melt the butter and cook onions, garlic, curry powder, salt and ginger until softened. Then you can add the pears and squash. Simmer for around 30 minutes until the mix is soft enough to puree.
Fall Pumpkin Chili Recipe
For chili lovers, you'll love this recipe, plus the addition of pumpkin makes it that much tastier and healthier.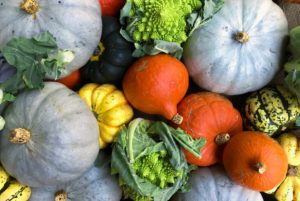 Simmer onions and garlic until softened, then add in some chili powder, sugar, pumpkin pie spice, coriander and oregano. Add in some ground turkey with salt and stir into small pieces. Add in some tomato paste, bell peppers, tomatoes and chicken broth. Cover and bring to a simmer for around 20 minutes. This is when you can add in some pumpkin puree and beans. Add in some salt and pepper to taste and enjoy!
These are just a few of our favorite fall food ideas and recipes. Remember that every fitness journey needs to incorporate healthy foods along the way. These simple recipes will help you stay on track as well as fill you up with delicious fall fruits and vegetables at the same time.