Watermelon is specifically promoted as a skin helper and is an ingredient in many skincare products lately, and you may be asking yourself 'is watermelon good for your skin?'
About Watermelon
Watermelon is a favorite of many during the hot months. It is a fruit that contains a lot of water, and has a low caloric and fat content.
According to the USDA, a 100g serving of fresh watermelon contains 30kcals of 'energy', 112 mg of potassium, and 4532 µg of Lycopene.
There are many watermelon benefits for your body, including helping to treat diabetes, improved immune system, providing kidney support, improved energy levels, healthy gums, and aiding in weight loss. But for the skin, in particular, watermelon can be an especially beneficial food to eat and see results. So let's go on to discover 5 benefits of eating watermelon for skin.
Watermelon benefits for skin
1. Watermelon has anti-inflammatory properties
Inflammation can greatly impact the health of your skin, and watermelon helps to reduce and treat inflammation.
Read also: What are the best anti-inflammatory foods?
2. Watermelon is packed with nutrients and vitamins.
Watermelon is packed with nutrients such as potassium. It also contains vitamin A, which repairs and creates new cells, and vitamin C, which is responsible for collagen synthesis.
3. Watermelon is rich in antioxidants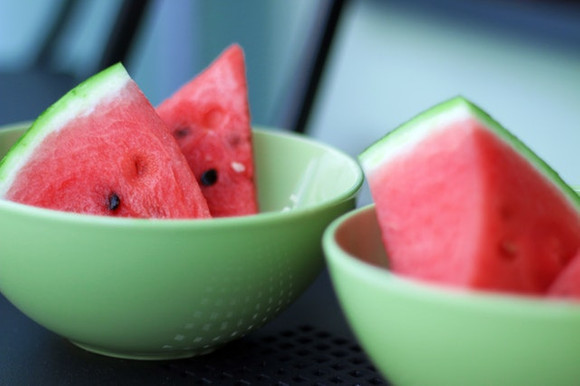 Antioxidants fight free radicals and keep your body healthy, which is something that your skin greatly benefits from. Watermelon contains lycopene, an antioxidant that gives the fruit its red color. Lycopene is said to give you most of the fruit's benefits, including helping to protect you against sunburn.
4. Watermelon keeps you hydrated
Watermelon is made up of 90% water. So if you are someone who has a hard time drinking his or her recommended amount of daily water, adding watermelon into your food intake is a great way to stay hydrated. You can find many face masks that include watermelon that are tailored for hydrating purposes.
Read also: Why is hydration important?
5. Watermelon aids with digestion
Healthy digestion is crucial for glowing healthy skin, and with its high levels of water and levels of fiber, watermelon is great for healthy digestion.
How to consume watermelon for skin benefits
You can eat watermelon, drink watermelon juice, or even have fun with hydrating watermelon masks to reap the benefits of watermelon for your skin.
Watermelon is a tasty fruit that is great for skin health! While it is most known for bringing back hydration to your skin and body, these are only some of the many watermelon benefits!